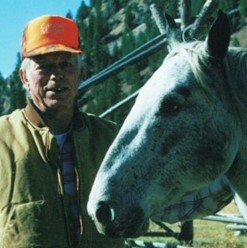 On March 6, 2023, Joseph (Joe) Lawrence Miley, sometimes called "Smiley Joe Miley", passed away from natural causes at his home in Anaconda. He was 85 years old.
Joe Miley was born in Morea Colliery, Pennsylvania, on October 12, 1937. He was the youngest of five children of Lauretta Copeland Miley and Joseph Lawrence Miley.
Joe grew up in the Mahanoy City area of Pennsylvania where he attended school and held odd jobs. Growing up, he always dreamed of being a cowboy. When his sister Loretta married a man from Montana and subsequently moved there, Joe found the opportunity to follow his dream.
Joe held several jobs in and around Anaconda before pursuing his dream. He worked for Christie Flower Shop, Lutey Furniture, the Anaconda Company, Ossello Furniture, Cactus Inn, and the Butte Stockyards. All of this led up to his starting his two businesses, Miley Outfitters and Miley Feed, which he worked at for most of his life. In the summer and fall Joe booked and made hunting trips with clients and in the spring and summer he sold bedding plants and animal feed, and did landscaping.
Joe was a hard worker and a problem solver. He never met a problem he couldn't figure out some way to solve – often by what he called the "Miley Way", maybe not the most efficient solution, but always functional. He was charming and charismatic, and had a great sense of humor. He loved the great outdoors and spent as much time outside as he could. Joe was also an animal magnet. Over the years, he attracted so many stray dogs and horses.
Joe was preceded in death by his parents, Joseph Miley and Lauretta Copeland Miley; his siblings, Thelma Halbleib, Loretta Lasalle, and Lawrence Miley; and infant son, Joseph Miley.
Joe is survived by his sister Eleanor Graepel; daughters, Michele Van Dyne, Elizabeth Pickett and Jennifer Dodson; his grandchildren, Virginia Theerman, Angelynn Dodson, Landon Dodson, Laine Dodson, and Benjamin Dodson, and his great-granddaughter, Peyton Dodson-Anderson.
Cremation took place at Axelson Funeral and Cremation Services. A family memorial will be held at a later date, at which time his ashes will be scattered. In lieu of flowers, we request that you donate to your favorite charity.
The family would like to give special thanks to caretaker Tim Matthews who looked after Joe during his later years in life.
Axelson Funeral and Cremation Services has been privileged to care for Joseph and his family.