The Axelson Family, which has been known for excellence and innovation in funeral service, is now offering the Butte community and region a much broader range of services. We are very proud of our 75 year commitment to serving families during difficult times. Axelson Funeral & Cremation Services, an affordable alternative to traditional funeral homes, has been established to meet the changing needs and wishes of Butte.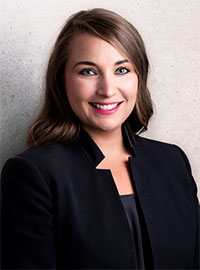 Brianne Mulvaney – Funeral Director
Brianne began her career in funeral service in 2014 as a Funeral Director intern at Anderson Stevenson Wilke Funeral Home in Helena, Montana. She achieved her dream when she graduated from American Academy McAllister Institute with her Mortuary Science Degree in 2016 and became a fully licensed Mortician in Montana in 2017.
Outside of the funeral home, Bri spends her time with family and friends. She is actively involved in PEO – Chapter AL, Kiwanis, and participates in local community events across Butte, Anaconda, and Deer Lodge whenever she's able. Bri's passionate about Yoga and enjoys practicing it regularly.
God's greatest blessing to Brianne and her husband, Nick, has been moving to Butte, Montana, to serve families at Axelson Funeral and Cremation Services and Longfellow Funeral home in Anaconda. Together, Brianne and her husband have found what a special community Butte and the surrounding areas of Anaconda and Deer Lodge are. Bri and Nick are pleased to plant their family roots in Butte.
Michele – Funeral Director
Michele is a Pennsylvania native who earned her degree in mortuary science from Pittsburgh Institute of Mortuary Science in 1993. After becoming licensed, she worked in Pennsylvania until August of 1999. The mountains called her west, so she relocated to Western Colorado where she worked in Delta County Colorado as a mortician and assistant coroner for several years. Michele recently joined the team at Axelson Funeral Home, bringing her experience and passion for helping those in need at a time of loss.
A country girl at heart, Michele loves the mountains, where she enjoys side-x-side riding and snowmobiling. She also loves to camp, shoot trap, hunt, and fish. Michelle has felt very graciously welcomed in Butte and hopes to meet friends who enjoy doing the things she loves.
Haley Essenheimer – Funeral Director
Haley Essenheimer has been interested in funeral directing from a young age. After high school, she began working toward a degree in human biology, which became the foundation for attending the Commonwealth Institute of Funeral Service in Houston, Texas. In 2020, she began her career working at a local funeral home in DeRidder, Louisiana, and graduated with her Mortuary Science degree in 2021.
In 2022, she and her husband decided it was time to make the move to their dream location. They fell in love with Butte immediately, and knew it was the community they wanted to serve.
It was a long-term dream come true for Haley to begin working to help families at Axelson's. Outside of the funeral home, she is still active in all the interests that brought her to funeral service in the first place. She loves to draw people and write about their stories. Haley is also a huge fan of film and literature.
Nick Mulvaney – Office Manager
Photo & Bio coming soon……
Keri Bolton – Certified Care Assistant
Keri was born and raised in Butte, Montana. Her dad had 13 brothers and sisters – she has a very large and amazing family. Keri moved to Seattle when she was young and spent about 20 years working for Boeing while she lived there. She couldn't wait to get back to her hometown.
Keri has spent the last several years working for the Butte School district as an engineer and with Axelson Funeral and Cremation Services as a Certified Care Assistant. Keri loves serving her community. In her spare time, she enjoys all the wonders of Montana's outdoors. Keri simply can't think of a better place to live and raise a family.
Pat Ryan – Certified Care Assistant
Pat Ryan is a fourth generation Butte guy who is busy raising the fifth. He was a sportswriter for years, but now works at the Butte School District warehouse and for Axelson. Pat's hobby is collecting hobbies, though riding his bicycle might be his favorite.
Jack White – Certified Care Assistant
Jack was born in Butte, Montana. He loves to camp and go 4-wheeling. Jack also enjoys fishing. When he retires, he wants to travel. Jack works as an engineer for the Butte School District and has been working with Axelson Since December of 2021.
Bob Lockett – Certified Care Assistant
Bob was born and raised in Butte, MT and moved to Helena during High School, where he spent the next 30 years. Bob is an avid fan of football and enjoy fishing and camping at Georgetown Lake with his family and seven grandkids. He is the Chief Engineer for Butte High School and very involved in the sports programs for both Butte High and East Middle School.