The Axelson Family, which has been known for excellence and innovation in funeral service, is now offering the Butte community and region a much broader range of services. We are very proud of our 75 year commitment to serving families during difficult times. Axelson Funeral & Cremation Services, an affordable alternative to traditional funeral homes, has been established to meet the changing needs and wishes of Butte.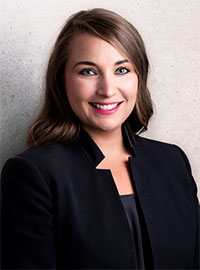 Brianne Mulvaney – Funeral Director
Brianne was born and raised in California. She visited Montana in 2007 when her family moved to Helena. After spending a few months exploring this beautiful state and getting to know the Helena community she decided to make Montana her forever home. What she loves about Montana most is the genuine kindness of all the different people she has had the fortune of meeting and the changing of the seasons.
At 29 years old, Brianne decided to officially pursue a career as a funeral director. She attended and graduated from American Academy Macallister Institute in New York, New York. Next to her family, this profession has become her greatest passion in life. What Brianne loves most about her work is the ability to offer a positive experience during the most difficult time in a family's life. Her work allows her to care for others and plan meaningful funerals and other services for the people of her community.
She and her husband, Nick, moved to Butte in July and couldn't be enjoying their new home more. The Butte community has very warmly opened their arms to Brianne and her husband. Her purpose is to serve each person with all the love and care that this time of their life demands. Brianne is proud to carry on the Axelson family name in the Butte Community.
Nick Mulvaney – Office Manager
Photo & Bio coming soon……