The Axelson Family, which has been known for excellence and innovation in funeral service, is now offering the Butte community and region a much broader range of services. We are very proud of our 75 year commitment to serving families during difficult times. Axelson Funeral & Cremation Services, an affordable alternative to traditional funeral homes, has been established to meet the changing needs and wishes of Butte.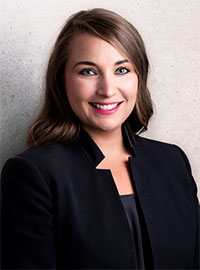 Brianne Mulvaney – Funeral Director
Brianne has worked in a funeral home since 2014. Getting her start at Anderson Stevenson Wilke Funeral Home in Helena, Montana. She achieved her dream when she graduated from American Academy McAllister Institute with her Mortuary Science Degree in 2016 and became a fully licensed Mortician in Montana in 2017.
God's greatest blessing to Brianne and her husband, Nick, has been moving to Butte, Montana, to serve families at Axelson Funeral and Cremation Services and through other civic involvements. Outside of the funeral home, Brianne is a member of Butte Sunrise Kiwanis Club, a PEO Sister – Chapter AL, and participates in local community events across Butte, Anaconda, and Deer Lodge whenever she is available. In her spare time, spending time with family and friends and practicing yoga are her passions.
Together, Brianne and her husband have found what a special community Butte and the surrounding areas of Anaconda and Deer Lodge are and are pleased to plant their roots in Butte. Since a child, Brianne has followed one belief: "Be the Change You Wish to See in the World" – Mahatma Gandhi. Her contribution to this belief is the work she does as a mortician.

Jessie Billquist-Jette – Funeral Director Intern
Jessie Billquist is a Montana native, being born and raised in Anaconda, MT. After graduating from Montana Tech with a bachelor's degree in Occupational Safety and the University of Montana with a Master's Degree in Physical Therapy, she began her professional career as a Pediatric Physical Therapist. She enjoyed working with and caring for children in this field for over 20 years.
In 2011, Jessie joined the Anaconda-Deer Lodge County Coroner's Office as a Deputy Coroner and in 2018, she was appointed as the Coroner of Anaconda-Deer Lodge County. Through her work with the Coroner's Office, Jessie saw firsthand the impact that caring and empathetic funeral directors had on the families they assisted. Because of this, she developed a passion for serving families in the same manner and returned to school to pursue her goal of becoming a funeral director. She earned her Mortuary Science Degree in 2021 from Arapahoe Community College and joined the Axelson family. As a funeral director, Jessie is privileged to be able to serve families in her community and the surrounding area by providing them with compassion and understanding during their time of need. It is her honor to assist families in planning personalized and meaningful funerals and services, and to care for their loved ones.
Nick Mulvaney – Office Manager
Photo & Bio coming soon……